Senior A / Kathryn Ross
Senior Athletes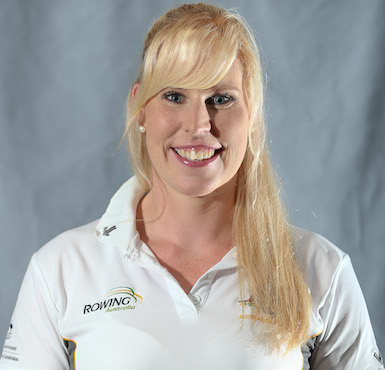 Kathryn Ross
@KatRoss_Rowing
| | |
| --- | --- |
| Date of Birth | 25/06/1981 |
| Coach | Gordon Marcks |
| Nickname | Kat |
| Height | 165cm |
| Weight | 68kgs |
| Hometown | Warrnambool, Australia |
| Hobbies | |
| Club | ANU |
When Kathryn Ross was two years old,
an accident with a ride on lawn mower at home left her with a deformity in her right leg. The accident did little to quell her love of sports and in 2006 she took up rowing. A year later,
she combined with John MacLean to win silver at the Adaptive World Championships in Munich. The pair then went on to win silver at the Beijing 2008 Paralympic Games,
agonisingly missing the gold to China by less than one second. After Beijing, Ross rowed with a number of partners before she found the right fit with Gavin Bellis. At their first international competition together, the pair won silver at the Gavirate International Regatta in Italy. The pair then backed it up with gold at the Italian National Championships and gold at the World Cup 3 in Munich. In 2012 the pair competed at the London Paralympic Games, finishing fifth. She is currently studying Nursing at University of Canberra and work part time at the Australian Sports Commission in Finance. In 2015, Ross claimed her third consecutive World Rowing Championship in the TA Mixed Double Scull alongside Gavin Bellis, and was once again named in the same crew in 2016.
Career Achievements
| | | | |
| --- | --- | --- | --- |
| Class | Year | Race | Position |
| TAMix2x | 2016 | World Rowing Cup 3 | Second Place |
| TAMix2x | 2015 | World Rowing Championships | First Place |
| TAMix2x | 2015 | World Rowing Cup II, Varese | First Place |
| TAMix2x | 2014 | World Championships | First Place |
| TAMix2x | 2013 | World Championships | First Place |
| TAMix2x | 2012 | Munich World Cup | First Place |
| TAMix2x | 2011 | World Championships | Third Place |
| TAMix2x | 2010 | World Championships | Third Place |
| TAMix2x | 2010 | Bled World Cup | Second Place |
| TAMix2x | 2008 | Beijing Paralympic Games | Second Place |
| TAMix2x | 2007 | World Championships | Second Place |