State Coaches Conference
14 September 2019 @ 8:00 am

-

15 September 2019 @ 5:00 pm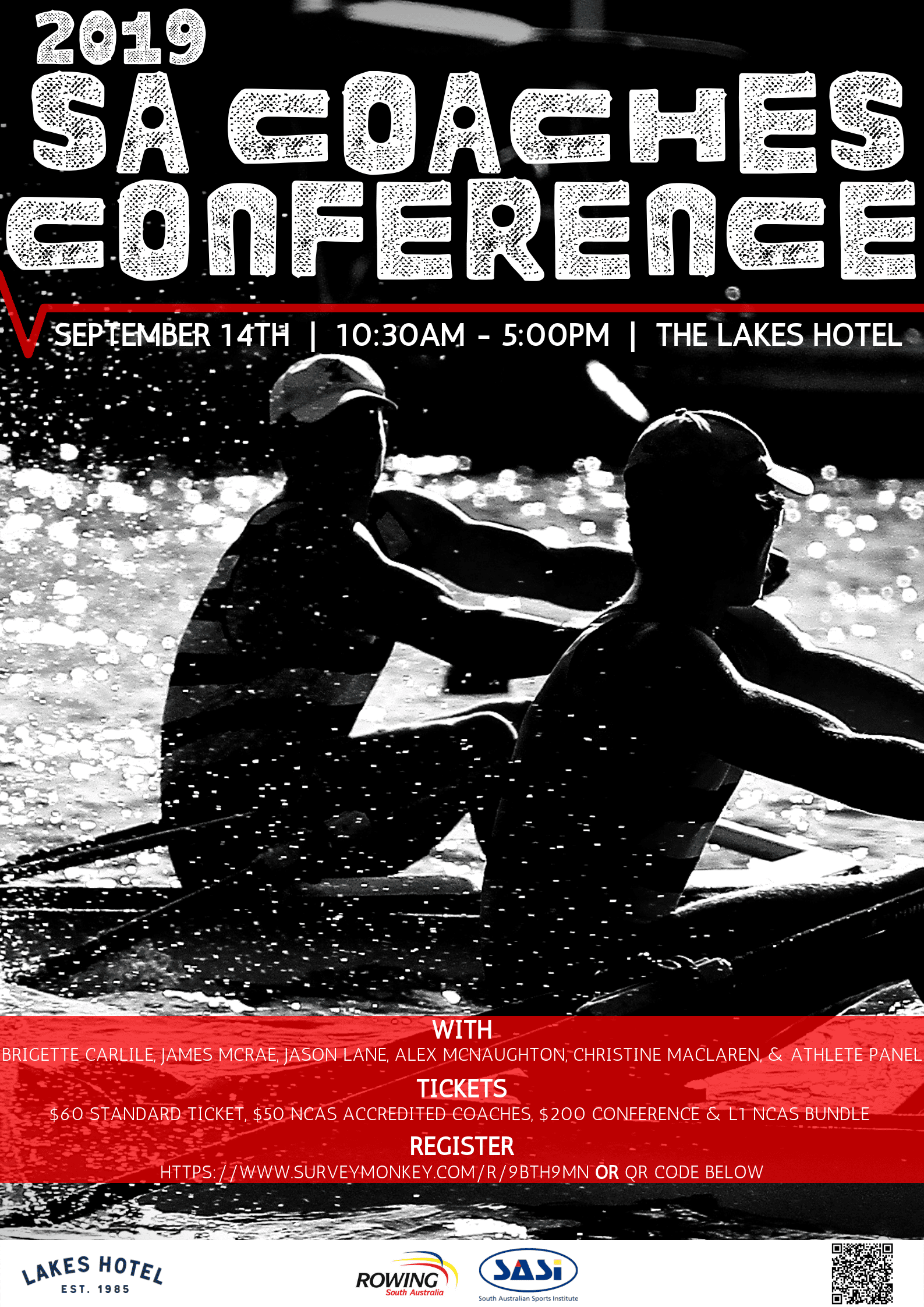 The Conference will be held on Saturday the 14th of September from 10:30am-5:00pm at the Lakes Hotel (Lakeside Room).
Guest speakers for the Conference will include:
Brigette Carlile (2019 AUS Junior W4+ Coach, Junior & Women's Youth Program Coordinator at Mercantile Rowing Club, and Coordinator of Coach and Rower Development at St Catherine's School, Melbourne)
James McRae (3x Olympian & World Champion)
Jason Lane (SASI Rowing Head Coach & 2019 AUS Junior Team Head Coach)
Christine MacLaren (SASI Rowing State Talent Pathway Coordinator)
Alex McNaughton (SASI Psychologist & Well Being Lead) – (TBC)
Panel of some of SA's most experienced athletes discussing their experiences with coaches, and the people and strategies that shaped their careers.
Ticket Prices and Registration
Participants may register at (https://www.surveymonkey.com/r/9BTH9MN). Registrations will close at 1:00pm on Monday the 9th of September.
Standard Ticket – $60
NCAS Accredited Coaches – $50
Conference/L1 NCAS Bundle – $200 (This will include entry to the 2019 SA Coaches Conference and Rowing Australia Level 1 NCAS Online Course – a saving of $40)
Lunch is included with all tickets.
The registration form allows participants to indicate where they would like their invoice directed (to them or their club/school). Rowing SA will collate this information and generate invoices accordingly. Please let Bec know (at blannan@rowingsa.asn.au) if your club/school would like to register a group of coaches directly.
A schedule of the Conference Topics and Timetable will be available shortly.