SA Schools Indoor Rowing Championships
2 November 2018 @ 5:00 pm

-

7:00 pm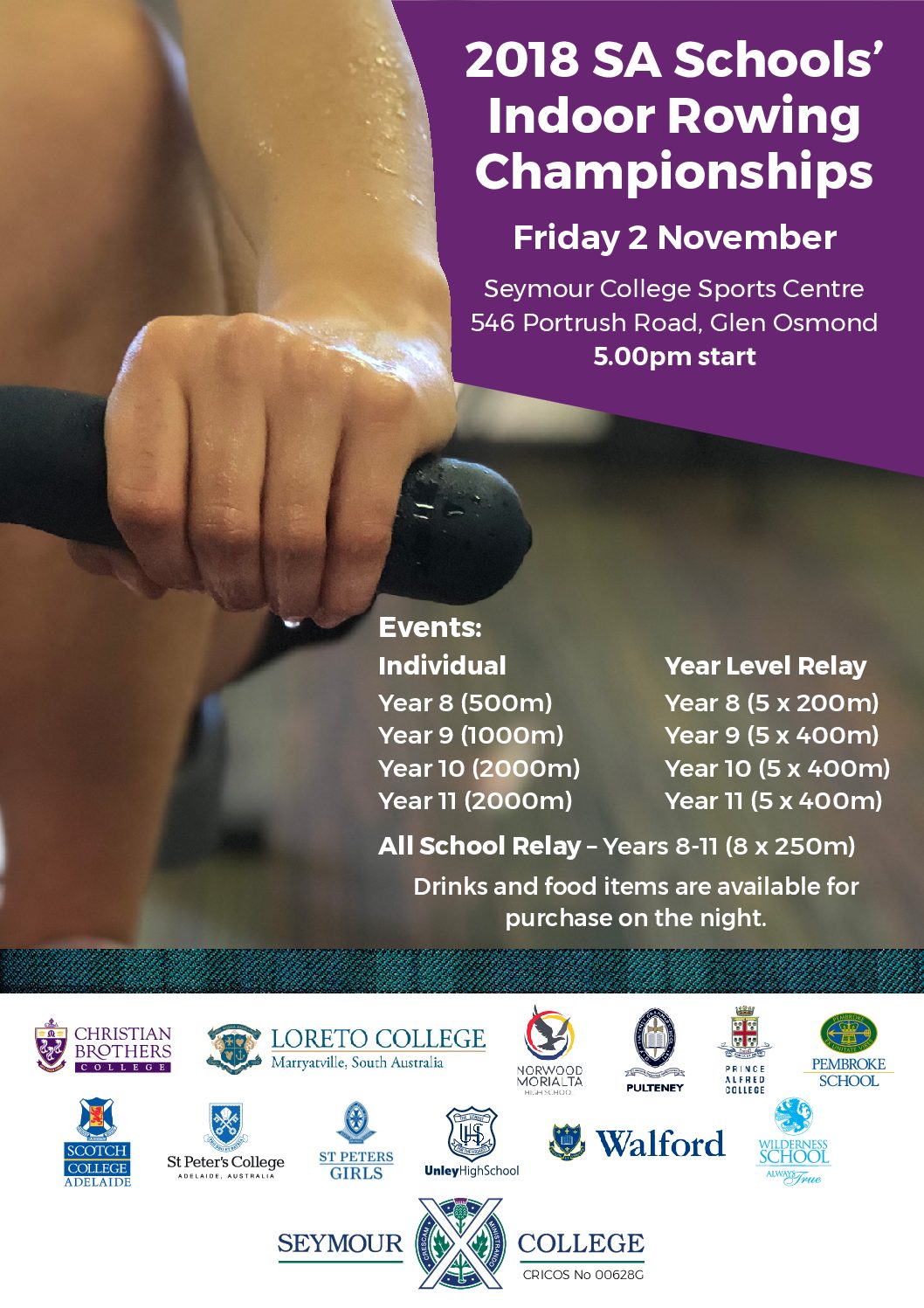 The Inaugral South Australian Schools' Rowing Championships are to be held at Seymour College Sports Centre on the 2nd November with a start time of 5PM. For eligibility and conditions of entry, please refer to the Information Booklet for Schools.
Please ensure entries are finalised by 12pm Friday 26 October – to be emailed to [email protected]
The School Campus Map and Seymour Sports Centre Map are both available. If there are any questions, please direct them to Jon on the email provided above.
Bus drop off
Please ask your buses to arrive and drop off on Gilles Rd. If you enter through the gate at the bottom of the tennis courts you will be able to walk through to the Sports Centre Entrance. This gate is not marked on the map. Some Seymour students will be around to assist with directions.
Parking
Please note that there is no reserved parking, it is first come first served. It is expected to be a busy evening as the Middle School Musical have their final performance in the CPA starting at 7pm. Please notify your parents to allow for time to walk from the parking. There is parking available on the main driveway off Portrush Rd on campus or in surrounding streets.
Food and Catering
Seymour's FOR will be providing some catering for the event. I will send out a menu prior to the event. It will be a relatively simple selection as we expect most people to be having light snacks in between events. There will be hot and cold drinks available.
Entries
Please fill in the names for your schools events in race order on the excel spreadsheet and email to me to finalise the start lists. I will publish a final version with the school logos once all entries are in. Please ensure entries are finalised by 12pm Friday 26 October. Late entries will not be included in the published start lists.
Marshals
Please ensure your allocated event safety marshals are identified with your entry submissions. If no marshal is nominated, your entry cannot be accepted.