Appointments: 2022 AGM
Rowing SA held their 86th Annual General Meeting on Monday 29 August. There was great attendance and it was fantastic to see such engagement from our clubs and schools. The meeting ran smoothly and resulted in the following appointments and reappointments.
Election of Office Bearers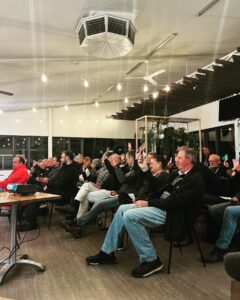 Patron: Her Excellency the Honourable F rances Adamson AC
Vice-Patron: Mayor of City of Charles Sturt (appointment of the 'Office' due to Council elections)
President: Phillip Mangelsdorf
Vice-Presidents: Lou Crotti, Michael Eastaughffe, Rod Elleway, Robert Russell, Penny Halliday, Paul Logan, Steve Pennington
Auditor: Bentleys
Election of Honorary Life Members
Congratulations to following recipients:
The Honourable Judge Dean E Clayton QC
Assoc. Professor Robert D Cheesman AM
Rodney F Elleway
Board Appointments
Rowing South Australia Acting Chair, Jamie Grant, said, "On behalf of the Rowing SA Board, and the entire SA rowing community, I would like to thank Anna Crowley, Henrietta Shepherd and Greg Melbourne for their contributions as a Director of RSA over recent years. Their insights, knowledge and skillsets have been invaluable, especially through the continuation of the sport during COVID-19. We know all three members will continue to contribute to our sport in other ways."
"I'm delighted to welcome Dr Greg Keene back to the RSA Board, and also Dr Bill Marmion and Fearnley Szuster as new Directors. In addition, former Appointed Director Shannen Graham was appointed as Elected Secretary and we welcome her back. All four Directors come with a wealth of rowing and business experience which will be important skills to incorporate in the board moving forward. We look forward to their contributions to the board.
"Finally, I would like to take this opportunity to congratulate our new Honorary Life Members. It is wonderful to be able to recognise such a group of individuals who have all contributed significantly to our sport. I would also like to thank all members who joined us for the AGM, and we're pleased to have been able have run a successful AGM."