Dear Rowing SA Masters Community,
We would like to advise the following communication from World Rowing – A great alternative in troubling times and we encourage you all to take part!
Kind Regards – RSA Team.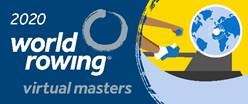 2020 World Rowing Virtual Master Regatta
(https://www.worldrowing.com/news/participation-the-key-for-2020-world-rowing-masters-regatta-alternative)
 The year 2020 has been a difficult one for all of us.  The COVID-19 pandemic has forced the curtailment of many of the events and traditions by which we mark and celebrate our lives and enjoy the fellowship of friends and colleagues with whom we share common interests and a joint enthusiasm for our sport.
The members of the Masters Rowing Commission were looking forward to welcoming the global masters community next week to the annual World Rowing Masters Regatta in Linz Austria.  But like other World Rowing events, the WRMR unfortunately had to be cancelled for this year.  Nevertheless, the ties of friendship that unite the masters community endure, and will continue long after the hardships of the pandemic have passed.  Many of our competitors have maintained a record of participating in the WRMR that has lasted for years, and indeed decades.  World Rowing has therefore organized a way to maintain the continuity of the WRMR and celebrate our sport as lifelong expression of health and friendship, even though we cannot meet physically this year.
We invite all masters rowers (age 27 and older) to join us "virtually" in the special 2020 World Rowing Virtual Masters Regatta.  Sometime from 2-6 September, when the 2020 WRMR would have been held, please jump on an ergometer/indoor rower and submit your score for a 1000m piece to the online form here:
https://worldrowingforms.wufoo.com/forms/2020-world-rowing-virtual-masters-regatta
World Rowing will then publish the name, club affiliation and nationality of everyone who participates. Each participant will also receive by email a digital certificate signed by the FISA President and Chair of the Masters Commission.  We will also publish general statistics—25th, 50th and 75th percentiles for your age group—so then you can compare yourself to everyone else in the world. We won't be publishing individual scores. This is not a competition, but rather a joint expression of the solidarity or rowers, and participation in our beloved sport even in the face of the current global crisis.  (There is of course no entry fee.)
Of course, we still look forward to welcoming you in person next year at the postponed WRMR in Linz, and thereafter in Libourne FRA (2022), Tshwane RSA (2023), Brandenburg GER (2024), and Banyoles ESP (2025).   Until we are able to see each other again, we wish you and your family good health, good spirits, and calm waters.
Cordially,
Ronald K. Chen
Chair, Masters Rowing Commission