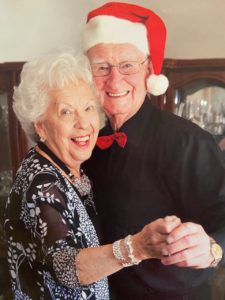 Port Adelaide Rowing Club is mourning the loss of two of its esteemed identities in the past two weeks.  The passing of one of our longest serving members, Jack Ward and his beloved wife, Doris , has been a double blow for the Club.
Jack has been a stalwart of PARC, as a competitor, office bearer and commentator over many years of devoted support & service.  He rowed right into his senior years after competing for Port mostly as a lightweight through many competitions.  He has greatly assisted both Port & the wider Rowing community through Rowing SA (as a Life-Member), as many of his colleagues & friends will attest to.
He has been instrumental in developing rowing programs & supporting Club activities as Club Captain & in many other capacities.  He helped in the construction of the current PARC building when the Club relocated to Snowdon's Beach and ably steered the Club through many challenging times.
Older members of the rowing community will recall Jack's race calling through the years, covering many Head of the River races and with a particular highlight being his 1973 broadcast of the Kings Cup at Murray Bridge for the ABC.
He leaves us well-loved and respected with a unanimous agreement from all who knew him that he was a 'complete gentleman'.
Jack's wife, Doris, was also generous with her time in serving the  Port Club as an integral part of the Women's Auxiliary , tirelessly fundraising, supporting the Men's –only rowing programs through many years and running numerous social events, Balls and Annual Dinners.  She was a stalwart of the Club in her own right and her long standing service and support was recognised by Port in the presentation of a "Service Medal" struck especially to recognise hers & the Auxiliary's efforts.
She departed only days after Jack, reinforcing our belief in their devotedness to each other through more than 60 years of marriage.
Port Adelaide joins with the rest of the rowing community in offering our sincere condolences to their family and celebrating their lives, so entwined with the sport of rowing. They will be greatly missed.
Vicky Knight
PARC