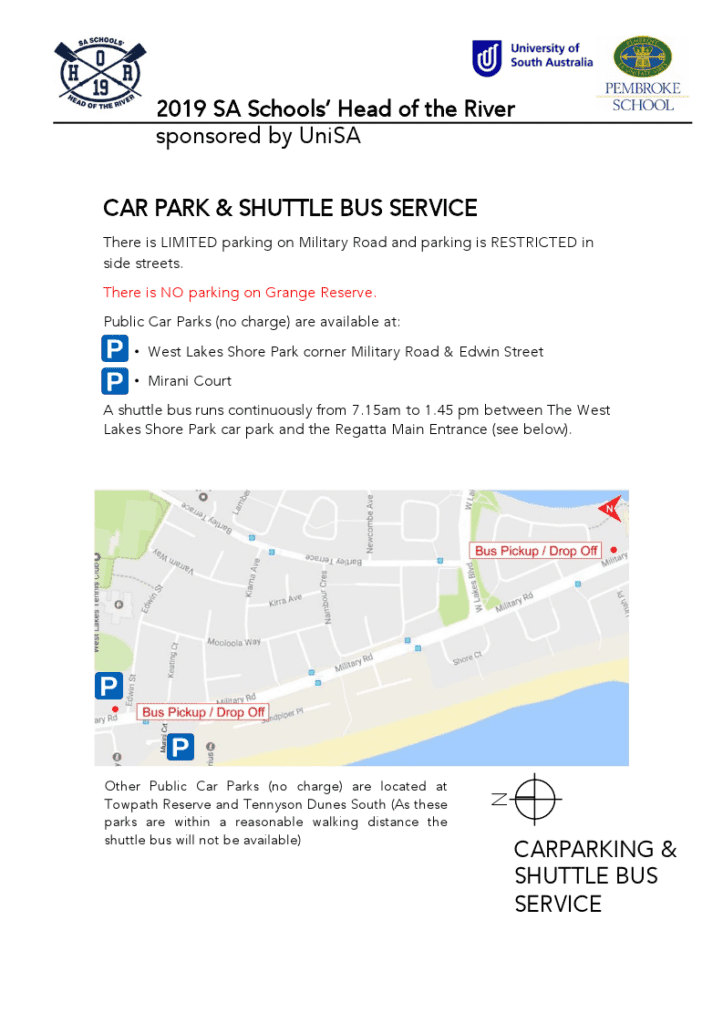 With over 1,100 athletes competing, and arguably the most beautiful spectating environment, the Head of the River is the most watched single school sporting event in South Australia.
It draws a crowd.
A big crowd.
🚗🚙🚗🚙🚗🚙🚗🚙🚗🚙🚗🚙
Parking is LIMITED on Military Road and is RESTRICTED in the side streets. Take care to look at the permanent and temporary parking control signs, as Council Rangers will be vigilant.👮‍♂️
🚌🚌
A FREE public car parking with a SHUTTLE BUS service is available from:
– West Lakes Shore Park corner Military Road & Edwin Street
– Mirani Court
A SHUTTLE BUS service (2 buses with absolutely LOVELY drivers – thanks 'Graham Cox Mini Buses') runs continuously from 7.15am to 1.45pm between the West Lakes Shore Park car park and the Regatta Main Entrance (refer to the map in the pic).🚌🚌
🚗🚙🚗🚙🚗🚙🚗🚙🚗🚙🚗🚙
Other FREE public car parks are located at Towpath Reserve and Tennyson Dunes South. (As these parks are within a reasonable walking distance the Shuttle Bus will not be available.)🚶‍♀️🚶‍♂️
🚗🚙🚗🚙🚗🚙🚗🚙🚗🚙🚗🚙
There is NO parking on Grange Reserve.