Hi All,
WEATHER AMENDED DRAW
Please find the Weather Amended Draw and Programme for Saturday of the State Championships Regatta now available on Rowing Manager.
Please be aware this draw contains major changes for all events in the regatta, including lane redraws, merging of events, cancellation of heats, and significant changes to race times and event order. We suggest all Clubs, Schools, Athletes and Coaches thoroughly review this information.
We understand that this new version may not work for all athletes, crews, and clubs, however we hope you can appreciate that a re-draw on this scale is a highly complex undertaking and every effort has been made to accommodate the needs of all clubs, schools, athletes, officials and volunteers.
At the moment, our priority is managing this weekends regatta, and information regarding the potential re-running of impacted races will be communicated next week.
WEATHER POLICY ADVICE
As advised earlier today a Level 3 response will be in place in accordance with the Rowing SA Weather and Condition Management Policy.
Therefore, please note the following additional information:
Basic first aid is available on water from all Boat Race Officials and the Royal Life Saving Patrol Boat, and on land from Regatta Control and the Royal Life Saving Representative stationed near Regatta Control.
Drinking water is available from the Water Refill Station near the South-West corner of the RSA Lawns (please see attached map) and from the RSA bathrooms.
Penalty free scratchings will be in place for any athletes or crews concerned about the conditions.
We would advise all athletes, coaches, clubs and schools to consider the condition and fitness or all participants, and to consider the number of events and time between races for each individual.
Please find the Sports Medicine Australia "Beat the Heat Fact Sheet" here https://sma.org.au/sma-site-content/uploads/2017/08/beat-the-heat-2011.pdf and the Rowing Australia "Extreme Heat Recommendations" here https://rowingaustralia.com.au/wp-content/uploads/2015/02/ra_extreme_heat_recommendations_2011.pdf
We will also have the following in place to assist in managing the conditions (please see map below):
Misting Tent – a misting tent will be set up on the South-West Corner of the RSA Lawns (near the SASI shed).
Water Refill – a water refill station will be sent up adjacent to the misting tent on the RSA Lawns.
Indoor Rowing Room – the indoor rowing room will available as an airconditioned athlete relaxation area. This is to be a quiet zone.
Warm up area – The RSA ergos will be shifted outside into the breezeway adjacent the indoor rowing room and may be utilised by athletes to warm up out of the sun.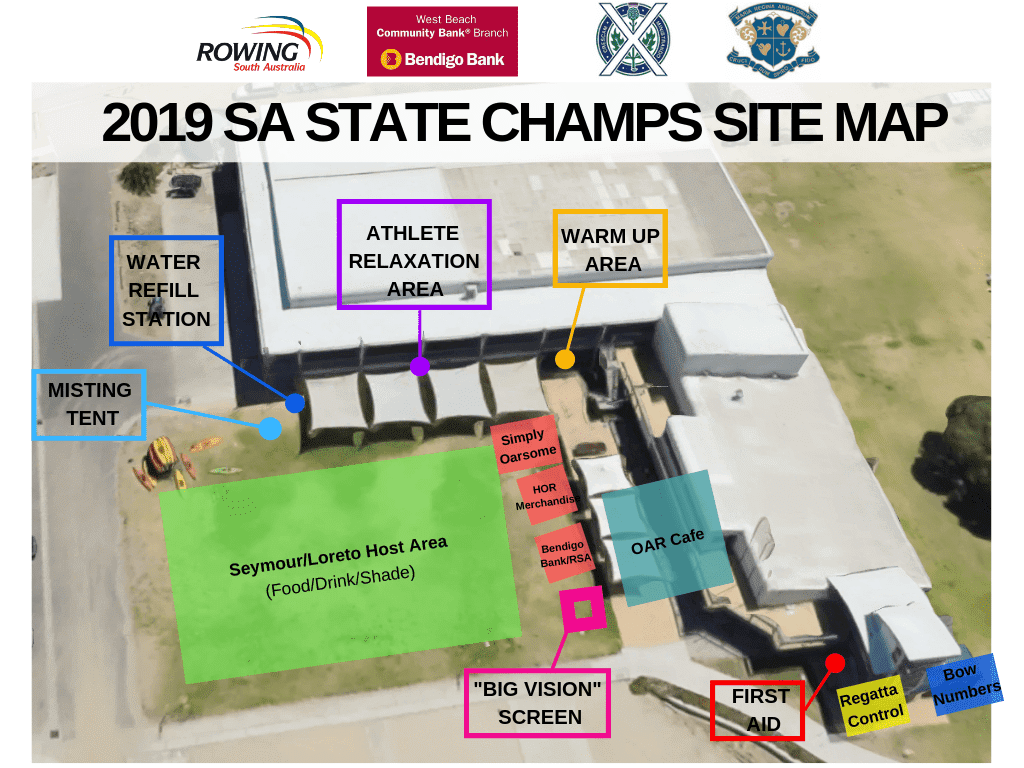 Conditions will continue to be monitored throughout the regatta and any information and updates will be made over the PA at the venue and via RSA's social media pages.
Please distribute this information to your members.
Thank you for your understanding.
Kind regards,
Bec Lannan
Rowing South Australia Inc