Hi All,
Please see the below information for the 2019 SA State Championships.
Weather Advice and Management
The current forecast maximum for West Lakes on Saturday is 37.3, expected between 2:30pm and 3:30pm. Sunday is expected to be significantly cooler. At this stage, the Regatta will continue as planned. Rowing SA will continue to monitor the situation and communicate any changes by 12:00pm tomorrow (Friday).
Rowing SA will have the following measures in place to help manage the heat:
Misting Tent – a misting tent will be set up on the South-West Corner of the RSA Lawns (near the SASI shed).
Water Refill – a water refill station will be sent up adjacent to the misting tent on the RSA Lawns.
Indoor Rowing Room – the indoor rowing room will available as an airconditioned athlete relaxation area. This is to be a quiet zone.
Warm up area – The RSA ergos will be shifted outside into the breezeway adjacent the indoor rowing room and may be utilised by athletes to warm up out of the sun.
Please be reminded West Lakes is positioned favourably for hot weather and rarely reaches the temperatures experienced in the city, or even at the airport (the nearest forecasting station). For example, at 1:30pm today the temperature on course was 28, with 52% humidity.
Conditions will be monitored throughout the regatta and the Weather Management Policy will be applied accordingly based on the temperature at the regatta venue.
Under 16 Athletes will be the first affected by the policy. Should the exclusion of U16 Athletes be required under the Policy, it is the duty of the Clubs and Schools to ensure no U16 athletes leave the bank, regardless of boat class, ability, or school year level.
Site Map
Please find below a site map of the Rowing SA Lawns for the weekend.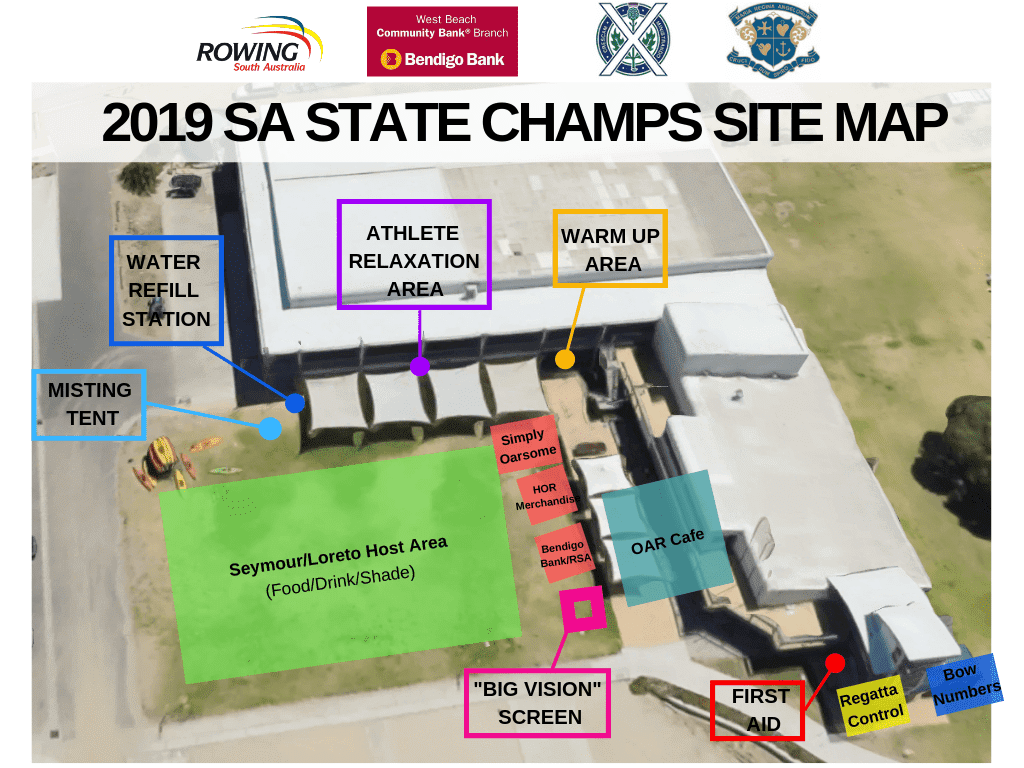 Oarsman Reserve
Oarsman Reserve will be line marked. Please ensure all tents are kept within the marked areas. Boat Trailers should be stored as far back on the reserve (towards Military Road) as possible. Please also ensure all oars and equipment is stored with consideration to all other clubs, athletes, and spectators.
Invitational Crews at State Championships
A reminder that Invitational Crews are not permitted in State Championship Finals. This applies to crews that have an existing entry and become ineligible.
Security
Security will be provided overnight on Saturday night. All equipment is left at the owners risk. We are expecting some overnight winds so please ensure all equipment is secured prior to leaving the venue on Saturday.
Please distribute this information to your members and we will be in touch tomorrow with any final updates and reminders.
Kind regards,
 Bec Lannan
Rowing South Australia Inc