PRIZE ANNOUNCED FOR THE CLUB THAT WINS THE 12 WEEK DEVELOPMENT CHALLENGE:
THANKS TO THE SUPPORT OF OLGA'S FINE FOODS, WHEN RESTRICTIONS ALLOW, ROWING SA WILL PROVIDE MEAT AND DRINKS FOR A CLUB BBQ TO CELEBRATE CLUB ENGAGEMENT WITH THE DEVELOPMENT PROGRAM!

Submit your feedback for the program here!
Rowing SA CHALLENGE CLUB – How to Earn Points!
Club points will be accumulated over the entire 12 weeks.
Fitness Challenges: every completion between the Monday-Sunday is one point.
These completions will be logged via Strava and submitted to the club's tally.
The Male and Female Category winners will receive a bonus 10 points to their club! (leading times will be posted on Fridays)
Categories:
UNDER 16
UNDER 19
UNDER 23
OPEN
MASTERS UNDER 55
MASTERS OVER 55
COACHES/VOLUNTEERS
Points will be tallied and released fortnightly following the conclusion of the fitness challenge. Category Winners will be announced over socials and on the website.
Personal and Professional Development:
Engaging with a coaches or athletes seminar: 5 points
Club organising a group Zoom Workout: 10 points (screenshot must be submitted to RSA social DM)
Video (15s<) posted to FB or Instagram positively engaging with the challenge: 10 points
Photo posted to FB or Instagram positively engaging with the challenge: 3 points
Note: Media must tag their club, Rowing SA and have the #RSAChallengeClub to earn the points.
*** ANY NEGATIVE COMMENTS OR FEEDBACK TO EACH OTHER IN ANY WAY SHAPE OR FORM WILL RESULT IN COMPLETE DEDUCTION OF POINTS FROM THEIR CLUB, AND REMOVAL FROM THE COMPETITION.
tl:dr – be kind to one another.****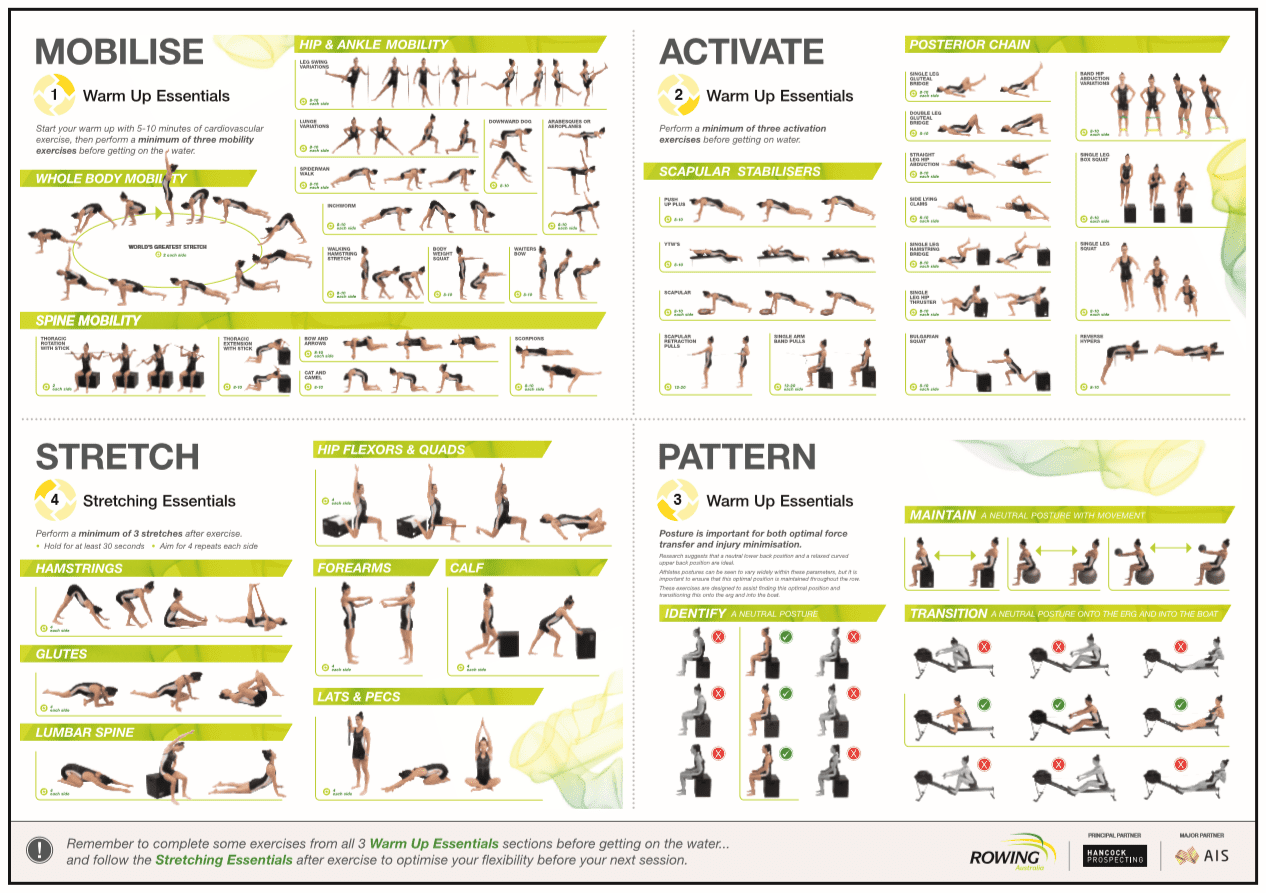 DISCLAIMER:
Rowing SA's fitness challenges are for educational purposes only and is not to be interpreted as a recommendation for a specific treatment plan, training program, product or course of action. You should consult your physician or other health care professional before following these sessions or any fitness program to determine if it is appropriate for you. The use of any information provided via the 12 week program is solely at your own risk.
Rowing SA does not warrant or represent that the fitness challenges are free from human or mechanical error, technical inaccuracies or other errors or defects. Any exercise program may result in injury. 
By voluntarily undertaking any exercises displayed on this website you assume the risk of any resulting injury. Rowing SA disclaims any liability from and in connection with the 12 week development program.